How Custom Print Fabrics Are Made
From Concept and Trends to Repeat Pattern: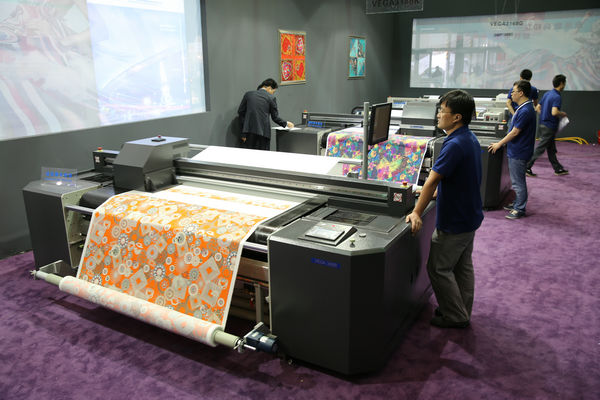 The very first phase of our digital prints start with tons of research and experimentation. There are many websites and online graphic designers that allow you
to purchase the rights to their designs or can help you understand trends. Suzhou Facto Textile Co. Ltd looks through websites like wwww.customprintingfabric.com for inspiration and repeat patterns.
Before purchasing the rights to a particular design we play with the design in photoshop. Using a mockup of our ski suit design in photoshop helps us understand how the print would look on our one piece ski suits. Sometimes we can't find what we are looking for and hire a graphic designer to create our
dream prints. This is more costly and takes more time but can get you the best results.
Fabric Selection:
After we finalize our prints and purchase the copyright for commercial use we decide on fabric. You can print on so many different blends of fabric these
days! We choose to print on a Polyester-Spandex blend because we need 4-way performance stretch material AND the polyester holds up to the heat during
the sublimation printing process and keeps its true colors longer than other fabrics. We also select fabric with the shiny finish rather than matte so that our
prints get that extra pop! If you want to see the variety of fabrics that can be printed on you can check out websites like wwww.customprintingfabric.com for ideas.


From Fabric and Design to Digital Sublimation Printing:
We make a special trip to Suzhou Facto, to visit where our custom prints are made. The team at Suzhou China let us watch and learn the process of digital
sublimation printing.

Suzhou Facto Textile Co.Ltd is a run China textile company that has over 4 years of industry experience.Our facility is dedicated to being conscious of our
environment, all of their used materials are either repurposed or recycled to cut down their carbon footprint.

The designs are transferred from pre-printed transfer paper onto fabric by contact heat – basically a big oven. The dyes are absorbed by fabric during this
heat transfer. Heat Transfer, also known as sublimation printing, is great way to produce high clarity, well defined designs.
Sunny
www.customprintingfabric.com