Company Introduction
Established in 2010, Suzhou Facto Textile Co., Ltd and Suzhou Fancy Prints Co.,Ltd are located in Shengze, an ancient silk town and taken becoming the custom printed fabric printer as its development goal since establishment. Through years of exploration and innovation, we has transformed from a single fabric production enterprise into a one-stop production enterprise focus on design and customization. Almost all of our products are exported to many European and North American countries, so far we have served hundreds of companies and individuals, all of them highly recognize us due to the high quality products and excellent service.

It is our unremitting pursuit to strive to become an expert in the field of custom printed fabrics. By integrating and optimizing weaving, dyeing, printing and finishing, we have greatly improved the production efficiency and qualified product rate, and also met the needs of discerning consumers. At the same time, we strengthen the cooperation with sewing factories to provide customers with a series of personalized and customized products. Despite increasing competition, we have become a market leader in the custom digital printing industry with the innovative capabilities, continuous optimization of products, high quality and reliable service and supply.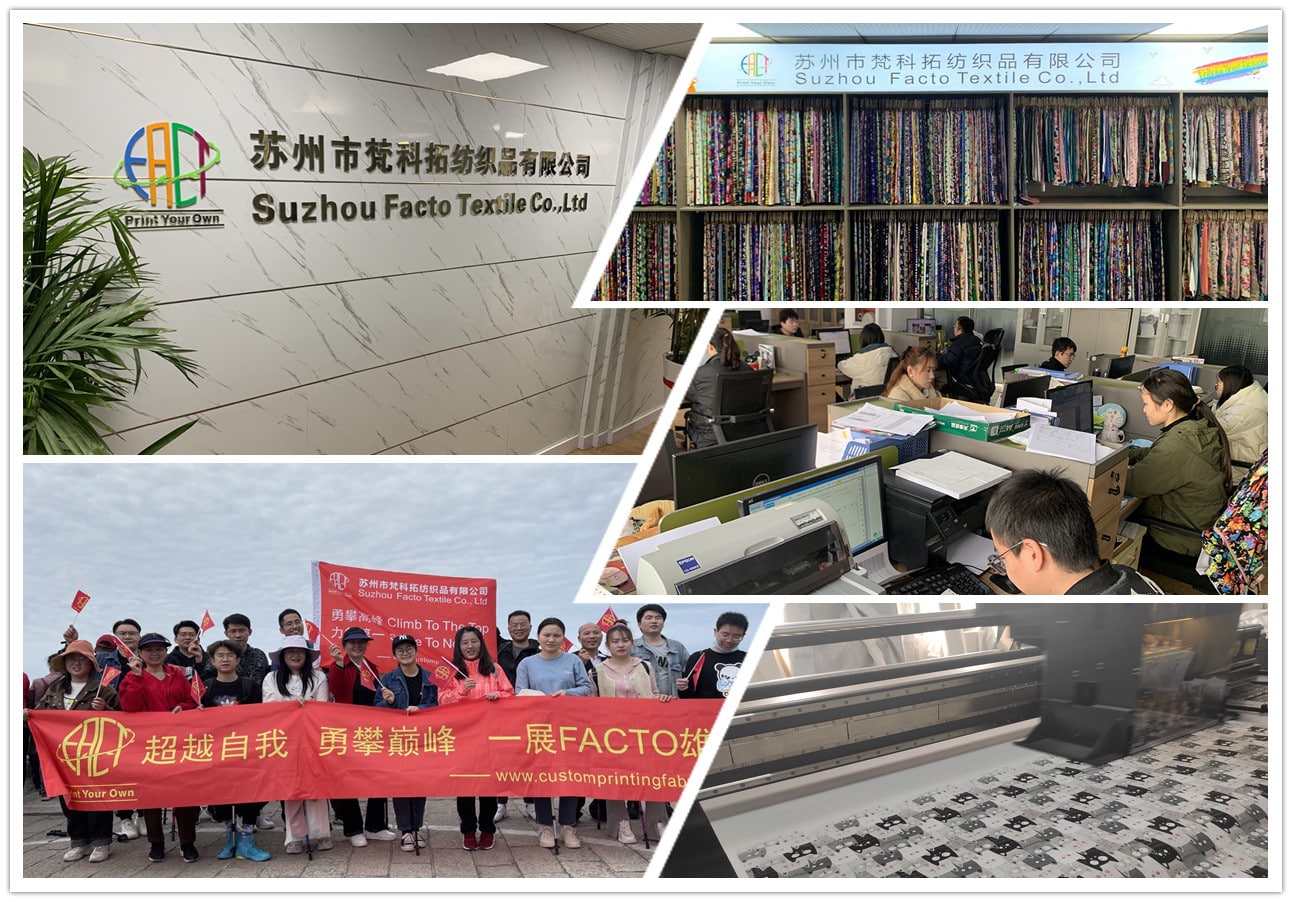 As a company focus on digital printing products, we have a strong and professional sales and after-sales service team. Meanwhile, all of our production members graduated from textile colleges, which enables them to have rich industry experience, keep up with market trends and provide customers with strong technical support and timely after-sales service. Over the past two years, we have continuously imported the latest production equipment from Europe and improved the production process based on the actual usage of customers. During the production, only Oeko-Tex standard 100 certified inks will be used, which is eco-friendly and skin-friendly. Committed to providing customers with the most eco-friendly and safest products is always what we care about, so the quality of digital printed fabrics has been greatly improved, our products feel comfortable with excellent elasticity, bright colors and high color fastness, thus can fully meet the stringent quality requirements of European and North American countries. For the specific product needs of customers, customized fabric services can also be provided to find the optimal solution.

At the same time, we have a variety of printed base fabrics with MOQ for consumers to choose from, which can provide more choices and reduce cooperation difficulties. At present, our production capacity of digital direct-injection printed fabrics is about 100,000 meters per month, but with the increased customer demands and the expansion of production equipment, the fabric output is expected to exceed 200,000 meters. Although the digital printed fabrics are our best-sellers, we actively integrate the stock fabric market with low MOQ and multiple color choices to meet different customers' needs. In the coming future, through taking the advantages of historical textile market, combining with industry trends and customer needs, we will develop and launch more new fabrics and show the different styles of digital printed fabrics.


Company Mission: Maximize customer satisfaction through better products and services, make the company to be a platform to realize value.

—Client:
We support our customers, actively meet their needs and always maintain a timely contact with them and then satisfy them.
—Product:
With the assistance of the team, we continue to develop and innovate to provide the market with high-quality and competitive all-digital printing series of products.
—Service:
Customer first, fast, efficient, communication

Company Values: honesty and trustworthiness, performance-oriented, people-oriented, mutual assistance, innovation

-Honesty and Trustworthiness
Respect the regulation, adhere to the bottom line of laws and morals. Abide by the business ethics and contract spirit, safeguard the legitimate rights and relative interests. Advocate sincere and frank interpersonal communication, not being superior or arbitrary.
— Performance-oriented
Performance is the lifeblood of an enterprise's survival and development. We must continue to create value for society by insisting on competition with strength, seeking returns with effort and speaking with performance.
—People oriented
Respect people's value, develop their potential, build a platform for employees to realize values and share development results. Be thankful and humble, emphasize the balance and sustainable development.
—Mutual assistance
Involved in the team, be willing to share, build mutual trust and share both honor and disgrace. To be open and tolerant, respect the differences, treat with honesty and bring the romance to a happy ending. Appreciate each other, to be simple, transparent, complementary and win-win cooperated.
—Innovation
Vigorously cultivate an innovative system and improve the company mechanism. Adhere to customer orientation and constantly seek new breakthroughs in business model, technology, management, products and services. Encourage innovative thinking and persist in continuous learning.


Company Business Philosophy: talent, execution, innovation, development

—Talent
Actively recruit talents from all over the world, and establish a comprehensive training system to help employees grow faster.
—Execution
Carry out execution and fruitful actions! Develop the ability to find and solve problems!
—Innovation
Product innovation, service innovation, management innovation and system innovation.
—Development
Gradually improve the company's system and seek a fast-track line which is suitable for the company's sustainable development.

Corporate Vision: To become a well-known supplier of custom printing products at home and abroad.

We plan to implement the brand development strategy in coming 3-5 years, transform ourselves to a high-tech and high value-added custom printed fabric company, make "FactoTex" a benchmark for the custom digital printing product industry, and then create more values for customers and employees!