Advantages and disadvantages of digital printing and thermal transfer printing Digital printing can be divided into digital thermal transfer printing
Advantages and disadvantages of digital printing and thermal transfer printing
Digital printing can be divided into digital thermal transfer printing (printed on paper with a digital machine and transferred to cloth) and direct printing.
Heat sublimation transfer
It can direct print color according to customer's requirements without color separation, finishing design, through the digital printer to print on paper, then through high heat (180-215 degrees) and high pressure to transfer to the fabric,
Used ink: spread ink
Fabric requirements:
1. It is best to have a white, light color (the printed form must be darker than the grey one).
2. The fabric components must be high temperature resistant, generally choose the whole polyester,or which polyester content is relatively high, such as (65/35 cotton-polyester, 80/20 terylene cotton, 95/5 polyester).
3. Before printing, don't add silicone oil. The temperature is slightly higher, and the shrinkage rate will be smaller after printing
Don't add the fluorescents, if not, try to add as little as possible.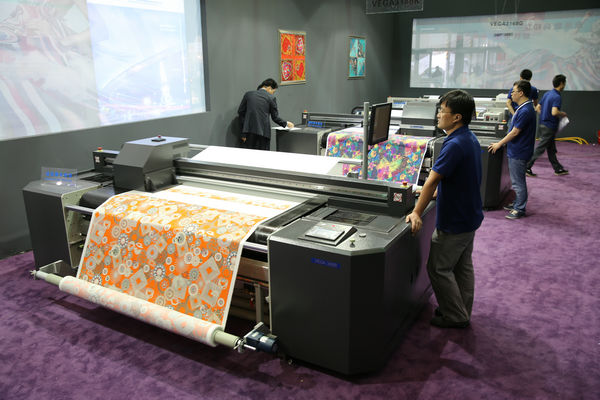 Direct spray printing
It is aimed at cotton, silk, rayon,T/C(high cotton content),cotton lycra,linen,and so on.
Used ink: active ink
Fabric requirements:
1. Best white, or light-colored (the printed form must be darker than the gray fabric), cotton fabric needs to be burnt
2. The fabric must be starched before printing, so as to ensure the stiffness and color of the fabric.
The advantages of digital printing: fast, don't need to plate making,
free
of
contamination
, the digital sample quickly, without any design color separation, high precision that can reach photos, colourful, strong lays of graphics, is suitable for small orders
Disadvantages: high cost, not suitable for large quantity orders,the shrinkage rate is not easy to control.
2. The printing ink and fabric requirements for the printing of thermal transfer printing are the same with digital thermal transfer printing. Paper:white and yellow paper and newsprint, which is thinner than the digital heat transfer printing.
Advantages: low unit price, suitable for mass production, bright color, rich gradation.
Disadvantages: only suitable for the pattern of color separation, color description, high cost, poor control of color printing, easy to have error, printing after
platemaking
, long production cycle and poor production environment