Cloth diaper fabric --- PUL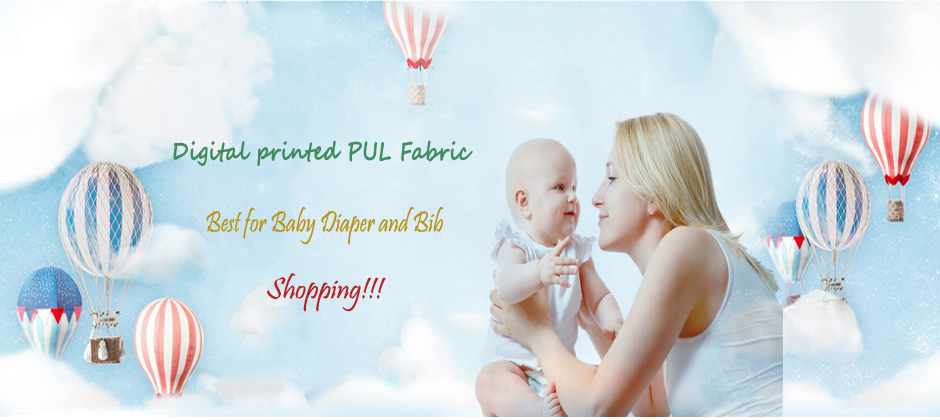 Welcome!
So, you have decided to go with cloth diapering and you want one that you won't find in your local stores. You want to be unique and mix quality and fashion.
Here you will learn what exactly PUL fabric is, how it works and why I use it.

PUL Fabric, What is it?
PUL fabric also known as (Polyurethane Laminate), pronounced as "pull", is a type of laminated fabric.
PUL fabric starts with lightweight polyester interlock (knit) fabric. The polyester interlock is paired with TPU (thermoplastic polyurethane), a thin stretchy plastic film. These two components are bonded together into a single fabric using a combination of heat, pressure, and adhesive.
In the past, solvent-based adhesives were used to produce PUL fabric. However, the volatile organic compounds in the adhesive were not so good for the environment and it ruined the cloth by fading over time. However, if you choose a hidden-PUL design (that is where I can customize the diaper to hide the waterproof layer), I aDSL a protective Eco-safe solution spray to the cloth diapers so now even the layer that is not water-proof is now water-proof.
Benefits of PUL
The most important characteristic of PUL is that it forms a waterproof barrier, while still being breathable. In this context, breathable does not mean that you can hold the fabric over your face and breathe through it. It means that the fabric releases heat and water vapor. This keeps the wearer comfortable. The dot pattern you see on the laminate side of our PUL allows for optimal vapor transmission. PUL is also stretchy for a close fit. Our PUL fabric has a soft hand, making it quiet not crackly.
PUL fabric is washable in hot water in commercial or home laundry; it can be autoclaved, and dry cleaned. It resists abrasion, is UV stable (is not affected by sunlight), fire retardant, and anti-microbial.
Uses for PUL
Use PUL fabric anywhere you need a waterproof, fluid proof, breathable moisture barrier. Here are some examples:
baby diapers – pocket diapers – all-in-one diapers
waterproof diapers – diaper covers
adult diapers
animal diapers – animal incontinence pads
waterproof mattress pads – reusable water resistant pads – crib mattress covers
diaper pail liners – wet bags – laundry bags
changing pads
feminine hygiene products – menstral pads – mama cloth
home furnishings – medical – toys
Of course, I only use it for cloth diapers for children, wet bags and sometimes our baby blankets as appliqués.

www.customprintingfabric.com
Eden Zhou